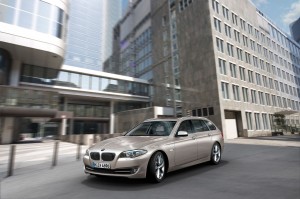 The BMW 5-Series Touring, presented at the last Leipzig motor show, is preparing to come in the market and aims to become a leader in the medium-high car segment. This is the fourth generation of  the Bavarian Touring, its highly expressive design of modern features and efficient example is attracting the BMW customers with a significant impact .
The new design: the design of the 2011 BMW 5-Series Touring is marked by an individual and sporty elegance that result in a dynamic and athletic style. The new refresh stands out even more the long bonnet thanks to the extreme tail, the dimensions are close to 5 meters. The new BMW wagon has a versatile interior and numerous clever details to satisfy the most demanding needs, such as the  large trunk that offers a minimum of 560 liters to a maximum of 1670 liters when combined with the versatility of the rear bench seat , whose can be controlled directly from the trunk. The backseat can be folded in three features with adjustable titl to 7 positions. The curtain covering the trunk comes out automatically when closing the tailgate.
Comfort and technology: the interior has high quality habitability and valuable materials, which raises the tangible feeling of great comfort. The BMW 5-Series Touring has many measures at the level of comfort and safety that include driver assistance (ConnectedDrive pack) as the Active Cruise Control with Stop & Go combined with the system for warning in case of risk of collision when driving behind another car, the system Surround View, Assistant Park, the dangerous overtaking flag, the Warning accidental exchange lane, Speed Limit Info and High-Beam Assistant, Head-Up Display and the system BMW Night Vision with persons detection. Controls are many but generally well positioned and made everything more intuitive than before, especially the iDrive knob, now surrounded by direct selection buttons that make it more intuitive and easy to interpret.
Several engines: among various engine are the two turbo diesel: the 520d Touring powered by a four-cylinder engine that offers a fine performance with 6 speed gearbox with 135 kW/184 hp, the second is the 530d with inline six-cylinder and delivers 180 kW/245 hp, this engine is available with the optional extra 'BMW BluePerformance technology' comply the Euro 6 emission. All engine versions are still in compliance with Euro 5. Among the petrol versions of the German brand stands the  BMW 535i Touring with six-cylinder BMW TwinPower Turbo, Precision Injection and VALVETRONIC, delivers 225 kW/306 hp. The BMW 5 Series fitted as standard with BMW EfficientDynamics measures  and will be on sale in Europe since the end of the month.
We cannot display this gallery
[youtube]