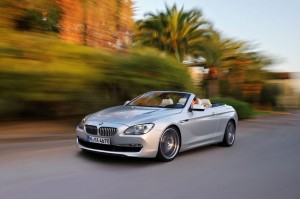 The new BMW 6-Series Convertible has been unveiled recently by the german's carmaker, with details of the luxury 2+2 seats, but did not announce prices, which will be announced later. The standard version should arrive in dealerships in spring 2011. Contrary to what usually happens, this time is first convertible version to be presented, which is usually made after the coupe version, which however has already been anticipated in September as concept car.
Size and design: Shapes are immediately muscled but slender, thanks to the long bonnet, the backward cockpit, the long wheelbase and the held low Greenhouse line define the typical proportions of a BMW convertible, but compared to previous version, the BMW 6-Series Convertible is longer 7.4 centimeters (4.89 meters), larger 3.9 (1.89 meters) and higher 0.9 cm (1.36 meters). The Front now draws the new Bavarian styling with more backward optical projectors, where there is a rather long tailgate needed to hold the locking mechanism of the canvas roof. Even taillights qualify for a restyling that embraces the latest BMW products, which are recalled also by a soft bumper and dual exhausts rectangular.
Opening fast hood: One of the features of new bmw 6-series convertible is just the soft top, electric drive architecture with vertical fins. It can also be activated while driving at speeds up to 40 km/h through a center console key: just 19 seconds to open the roof, while closing in 24 seconds.
Engine range: Initially, the engine range of new BMW 6 Series Convertible has two version: a V8 engine and a six-cylinder equipped with technology TwinPower BMW Turbo and direct injection. The eight-cylinder engine 4.4 L of new BMW 650i Convertible delivers a peak power of 300 kW407 hp in speed range between 5500 and 6400 rpm and 600 Nm torque, available between 1750 and 4500 rpm. The new BMW 650i sprint from 0 to 100 km/h in 5.0 seconds and speed is limited to 250 km/h. Average fuel consumption in the EU test cycle is 10.7 liters per 100 km and a CO2 value of 249 grams per km. Six-cylinder engine technology TwinPower BMW Turbo was completed by gasoline direct injection and Valvetronic variable valve control. The 3.0-liter engine delivers a peak power of 235 kW/320 hp at 5800 rpm and 450 Nm torque, available between 1300 and 4500 rpm and this allows the BMW 640i Convertible to accelerate from 0 to 100 km/h in 5.7 seconds. Top speed is limited by electronics to 250 km/h and average fuel consumption is 7.9 liters per 100 km, CO2 value 185 grams per km. Both engines are equipped as standard with an eight-speed automatic sports gearbox, and among BMW EfficientDynamics measures fitted as standard in the 640i BMW convertible is the Auto Start Stop function.
We cannot display this gallery
Pack equipment: new BMW 6-Series Convertible is equipped as standard with Dynamic Driving Control, which allows you to adjust the chassis according to your preferences. The braking system is supported by the Dynamic Stability Control (DSC) and (ABS), Dynamic Traction Control (DTC), the brake assist system Cornering Brake Control (CBC), Dynamic Brake Control (DBC). Standard optional also includes alloy wheels size from 18 inches for new BMW 650i Convertible and 17 inches for the 640i convertible. Upon request, Adaptive Drive system is available with electronically controlled shock absorbers and anti-roll stabilization. Another is the Integral Active Steering, ordered as optional extra, while among the driver assist systems are available as optional the reversing camera, Surround View, BMW Night Vision with person's detection, Bmw Park Assistance and Head-Up Display.
[youtube]