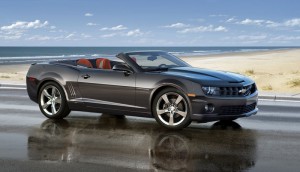 At Los Angeles Motor Show debuts Chevrolet Camaro convertible version, on sale in the U.S. market in next February. The Camaro is one of the icons of American sports cars, very popular and achieved success among the public since 1967. 100 units limited edition of Camaro convertible had already been sold on the web for $ 75,000, the standard version instead will cost much less: the entry price is about $ 30,000, which then will have charges depending on countries.
Engines: Chevrolet Camaro are available with classic 3.6 V6 315 hp and 6.2 V8 from 405 hp or 432 offered with the pack LS, LT and SS level 1 or 2. In the U.S. At launch the Camaro convertible will be offered only with powerful 6.2 V8 from 426 hp Corvette origin and paired to a standard six-speed manual transmission with automatic as extra optional. In Europe could get even with the smaller 3.6 liter V6 312 hp already used on the coupé.
Strengthened: To overcome the absence of tin roof, the American engineers have managed to strengthen the Camaro's platform with a bar between the strut front suspension, a transmission support, a reinforced frame to the central tunnel and new underbody V frames.
Design: Long 484 cm, 192 wide and 139 high, the Camaro Convertible comes with aggressive shapes inspired by those of the original model of the 60's with big 20-inch wheels with large tires: 245/45 to the front and 275/40 to the rear. The electric drive canvas roof, lean back in about 20 seconds and disappears in the dedicated compartment, reducing the boot volume from 290 to 220 liters.
The famous American pony car will debut on the European market in autumn 2011.
We cannot display this gallery
[youtube]