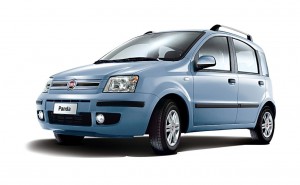 Fiat Panda offers a new range of engines for both petrol and diesel in 2011, and some of the aesthetic and interior restyling. Pending the imminent new model, comes new engine Euro 5 versions: 1.3 Multijet 16V diesel 75 hp particulate filter as standard and petrol 1.2 8V 69 hp. The Fiat Panda is the A segment's best-selling car in Italy, with these updates, the model has gained a few horsepower and certification Euro 5 emission requirements for two of the bigger engines. In detail, the entry-level 1.2 8v 69 hp compared to the same Euro 4 engine produces more 9 hp, ensuring greater flexibility, lower power consumption and best-performing version of the Panda 4×2, reaches 162 km/h speed , accelerates from 0 to 100 km/h in 13.4 seconds, and in the combined cycle consumption of 4.9 l/100 km with CO2 emissions of 113 g / km. The 75 hp 1.3 16v Multijet combined with a 5-speed manual transmission, ensures a maximum speed of 165 km/h, while the combined cycle is 4.2 l/100 km. In addition, the new Panda equipped with this engine comes with particulate filter as standard and reaches levels of CO2 emissions at 109 g/km. Engine range will try to satisfy different needs: in addition to Euro 5 engines petrol and diesel, there are the alternatives to natural gas or LPG, then you can count on front-wheel drive or 4×4 versions, this enriched by the electronic differential ELD and from ESP (the stability program). Six pack equipment (Actual, Active, Dynamic, Emotion, and Climbing Cross), 15 body colors including the new Azzurro Volare and Verde Eccentrico.
News also in the cockpit. In particular, debuts the Actual and Active Vision, which according to the manufacturer would be of higher quality and better aesthetic impact (the colors available are gray/blue and gray/white), while the Dynamic version is offered on three finishes, already on packs Climbing and Emotion: Jeans (gray/black), Tecno (beige /black) and the new Jeans in gray/blue. Finally, the tissue gray/orange and the Sail (sand/black) are exclusive of, respectively, Version Mamy and Cross.
Prices start from (European market average) 8,700 euro for the Panda Actual 1.2 69 hp . So prices go up from previous Panda Actual Euro 4 with 54 HP that cost on average 8,100 euros, but the new version offers the Euro 5 engine with more 15 hp and new tissues.
We cannot display this gallery
Similar News: