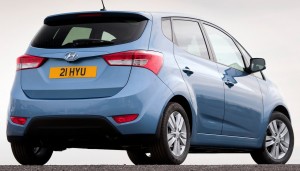 Hyundai introduces 4 new models at next 2010 Paris Motor Show, the stand of the Korean brand will host the renewed compact MPV i10 and ix20 in world premiere. But there is also space for the version Blue and the fascinating ix35 Genesis Coupe.
– The Hyundai ix20 is the new compact 5-seater MPV's Korean, derived from Kia Venga, even if compared to this shows a more personal style. The car goes on sale in November at a price set at average of 15,200 euros. The ix20 will have a fairly comprehensive standard equipment, as equipped with air conditioning, a Stop & Start system, ESP, Bluetooth and side/head airbags. Although aimed to a diverse audience, the new ix20 is designed primarily for young families looking for space on board and full equipments. The two petrol engines available are 1.4 and 1.6 liters (90 and 126 hp) and an efficient diesel 1.4 CRDi 90 hp.
– The new Hyundai i10 looks at the Paris event with a new efficient engine under the hood: it's a 3 cylinder petrol engine with a displacement of 1.0 liters, which can emit only 99 g/km of CO2.
– The Parisian "catwalk" comes a few weeks before the commercial debut of the new version Genesis Coupe, a stylish rear-drive vehicle. The car is already on sale in the U.S. market but has been modified specifically to meet European's taste: in particular the structure and suspension have been made more rigid, more responsive steering, brakes upgraded and added a rear spoiler . Regard engines, at launch will be available a 2.0-liter turbo with 210 hp and later will be offered a 3.8 V6 303 hp engine that promises to be particularly interesting.
– The compact-SUV ix35 presents in Paris a new version aimed at increased efficiency and eco-friendly. Offered for the first time is the Blue Drive technology, which allows a significant reduction in fuel consumption without reducing the power, and is presented in world premiere the new hybrid diesel ix35. This version, among the first to assemble the hybrid technology on a diesel engine, can reduce C02 emissions to just 117 g/km.
We cannot display this gallery