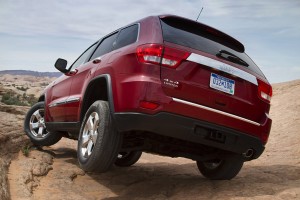 The European version of the new Jeep Grand Cherokee has just been officially unveiled at the Paris Motor Show which held now (2-17 ottobbre). The coming  on the market for the solid Off-Road SUV has been delayed until early 2011 because of high demand in the U.S. market. The new Grand Cherokee continues to offer the legendary Jeep all-wheel drive , a two-speed transfer case torque and top towing capacity in its class, providing efficient power consumption and a exclusive interior finish. Grand Cherokee is equipped with petrol engines Pentastar V6 3.6-liter and HEMI V8 5.7-liter,  engine whose particularly popular in the U.S. thanks to technological development for reducing pollutant emissions and fuel consumption, but inevitably less attractive in Old Continent for this segment where numbers are made from diesel engines. We must then wait until 2011 when it is scheduled to arrive the turbo diesel 3.0 V6 turbo 225-hp engine produced in Italy by VM.
We cannot display this gallery
Jeep Grand Cherokee is equipped with four-wheel drive systems, Quadra-Trac II and Quadra-Drive II. Thanks to many sensors, the Quadra-Trac II system with two-speed transfer case immediately notify any wheel slippage and sends the information to make the necessary corrective action. The system also uses the device Throttle Anticipate, which in case of sudden acceleration maximizes traction on all four wheels to prevent loss of grip. When the system alerts the wheel slippage, 100% of available torque is immediately transferred to the axle with better grip. Jeep Grand Cherokee has the new device Selec-Terrain Traction Control that allows you to choose the most suitable off-road mode to take on any surface. This system is responsible for coordinating operations of electronic on 12 different engine parts: braking system and suspension, including the accelerator, the gearbox, the distributor, systems Traction Control and Electronic Stability Control.
[youtube]