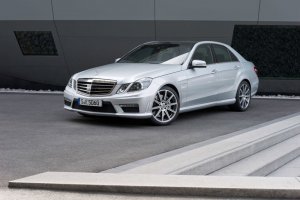 At the New York Auto Show, Mercedes introduced the E63 AMG with the new M157 5.5-liter V8 twin-turbo  already used on CLS63 AMG, S63 AMG and CL63. The V8, which is combined with the 7-speed automatic transmission Speedshift MCT, is offered both as 525 and 557 hp, the latter with the AMG Performance Package increases the torque from 700 to 800 Nm.
ENGINE AND PERFORMANCE: the 8-cylinder engine, developed by Mercedes-Benz, features a driven direct injection with piezo injectors, it has the aluminum base, a four-valve technology with variable camshaft, air-water intercooler, engine management system and automatic start/stop. ew E63 AMG with 5.5-liter V8 twin-turbo, compared to the old 6.3-liter naturally aspirated V8, promises 22% on fuel efficiency, with an average of 9.8 litres/100 km (10 for the wagon), thanks to Stop & Start system which is always on with the driving mode "Controlled Efficiency". There are 4 driving modes: the C program allows the start with second gear, the other, Sport, Sport Plus and Manual enhance performance, optimizing the change gear shifting time. The acceleration time from 0 to 100 km/h for the two versions 525 and 557 hp is respectively of 4.3 and 4.2 seconds, which in the case of a wagon rise to 4.4 and 4.3 seconds, while top speed is 250 km/h (limited).
OPTIONAL EXTRA AND PRICING: Mercedes E63 AMG comes with aluminum shift paddles, sport steering wheel and gear selector with new AMG logo. Optional features include limited slip differential, carbon fiber details for the interior and 19″ alloy wheels. The new Mercedes E63 AMG will be at dealers from September 2011 and european average prices remain virtually unchanged if compared to the previous model: € 105,970 for the sedan and € 108,410 for a wagon, the AMG Performance Package is available at € 8306.00, while Driver's Package includes driving course and speed limiter at 300 km/h costs € 3212.
[Not a valid template]
[youtube]
Similar News: