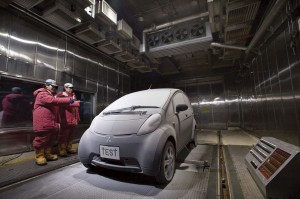 Mitsubishi is preparing the full electric i-MiEV for the next 2010 Paris Motor Show wich starts the end of september, this car is the standard version for the European market. Compared to the already known Japanese model, we notice revised interior with a new center console and finest details, the car has also been changed in the bumper's design to obtain the necessary approvals in Europe. All security measures, both active and passive, have been strengthened through the introduction of active stability control ASC (Active Stability Control) and side airbags – all standard equipments.
Mitisubishi i-MiEV, must be remembered, was the basis for the realization of both the Citroen C-Zero and Peugeot ion, making the same basic mechanics. The electric motor has 180 Nm torque, while the batteries provide 150 km of autonomy and offer the possibility of fast charge 80% in 30 minutes with appropriate charging system.
The car will be on sale from December 2010 in 14 European countries at a price not determined yet, while in Japan, thanks to government incentives, the price of the Mitsubishi i-MiEV down from 34,000 to about 22,500 Euro. Meanwhile, Mitsubishi launched the web-site  www.new-imiev.com.
Related Post: Green Overdrive: We Drive Mitsubishi's Electric iMiev!
We cannot display this gallery
[youtube]
Similar News: