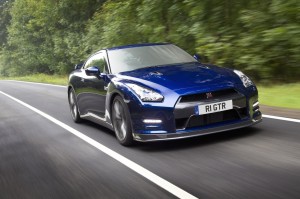 At Los Angeles Motor Show (19-28 November) debuted the 2011 Nissan GT-R with a light facelift that continues with the commercial launch in Japan and prepares for the imminent arrival in Europe in February 2011, along with unreleased versions Egoist, Track Club and the renewed SpecV.
MIGHTY DESIGN: made of Japanese design elements and aggresive racing details, those are highlighted by a slight facelift with wider front bumper and developed aerodynamic to allow a better brake cooling and reduce the air resistance in the engine compartment increasing the downforce by 10%. Equal treatment in the rear, which adopts a new diffuser that increases downforce by the same percentage. The result is a CD that drops from 0.27 to 0.26. Adopted daytime running lights, LED technology to the rear and the new wider tailpipe. Inside is a new instruments panel and new comfort seats. The real news, however, are under the body. The chassis has been reinforced in the front and in the area around the suspension in the engine compartment. In addition, these comes with new geometries to be more effective on the road.
EXPLOSIVE ENGINE: 3.8 biturbo engine increases from the current 485 hp to 530 hp at 6400 rpm, maximum torque is 610 Nm from 3000 to 6000 rpm, the optimization also affects consumption, which stood on the declared value of 8.5 liters per 100 km with a consequent reduction of CO2 emissions, this will help to approve the Nissan GT-R 2011 with the Euro 5 legislation.
SPECIAL EDITION: Of course, the 2011 Nissan GT-R will have its own special series. The GT-R SpecV 2011 has a torque of 632 Nm while the power remains at 530 hp. Rather this version has a new rear spoiler, new alloy wheels, brake pads racing, titanium exhaust and stability control more permissive. They are about to arrive in Europe for the first time two restricted versions: the GT-R Track Club is a GT-R designed for use exclusively in the circuit, while the GT-R Egoist is a variant that try to make the GT-R comfortable and luxurious.
[youtube]
Similar News: