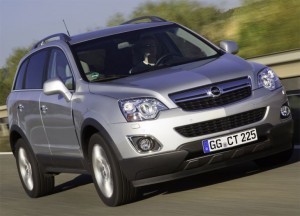 New version Opel Antara will debut at the Bologna Motor Show –  next December 4 to 12 –  the SUV is proposed with facelift and four years after the commercial launch with light changes and updated engines to keep up the current marketing.
NEW OPEL DESIGN: 2011 Opel Antara restyling has new bumper with a vertical air inlets, new plate's position and fog groups with finest design, while the chrome strip inserted into the grille gains two longitudinal grooves. The rear remains the same but with new tail lights LED technology and reverse lights no longer circular. Available also redesigned alloy wheels with diameters up to 19 inches.
NEW 2.2 CDTI : The SUV from Rüsselsheim provides new range Euro 5 engines. The  petrol four-cylinder 2.4 L now has 170 hp instead of 140 of previous version and can be with front-wheel drive or four-wheel drive. Two options for trasmission: manual or automatic, both with six speeds. Brand new 2.2 CDTI turbo-diesel is available in two versions with 163 hp and 184 hp and represents a substantial improvement over the outgoing 2.0 CDTI turbo diesel respectively with 127 and 150 hp. The new Opel Antara 2.2 CDTI 163 hp is available with either front-wheel drive and four-wheel drive, while the 2.2 CDTI 184 hp is only 4×4.
Similar News: