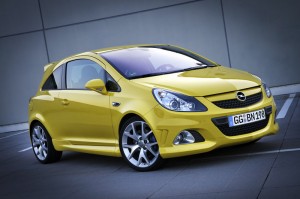 The Opel Corsa OPC has a slight facelift: the model, launched in 2007 and sold in 13,000 units to date, has not changed in its engine, the 1.6 turbo with 192 hp and 265 Nm in overboost mode, but has received a number of improvements that have aged a few important aspects.
Evil look: Opel Corsa OPC shows dynamism and "badness", thanks to an eye-catching yellow color Sunny Melon to 18″ wheels (optional) with 225/35 tires and many spoiler ending back into exhaust with central triangular extractor. The small Opel's interior is featured by very comfortable sport bucket seats.
Technical aspects: The new Opel Corsa OPC, compared to the previous version, says lower fuel consumption in combined cycle down to 7.3 liters per 100 km (-7.6%) and CO2 emissions down to 172 g/km (-9.5%), top speed is 225 km/h and acceleration from 0 to 100 km/h in 7.2 seconds. The Powerful Corsa is equipped as usual with a six-speed manual transmission with ESC set in sports mode, 16 " brake discs and blue calipers (308 mm front ventilated and 264 mm normal rear) that even after a series of climbs and downhill at good speed do not show fatigue signs.
Prices: Opel Corsa OPC is proposed at an average of € 22,500 and includes alloy wheels 17 ", rear tinted windows and air conditioning. On request you can add optional extras such as metallic paint (440 €) 18 " wheel (360 €), rear parking sensors (340 €), panoramic roof (790 €) and DVD navigation system (1,250 €).
We cannot display this gallery
Similar News: