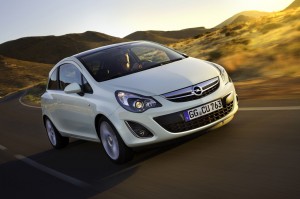 Opel chose Bologna Motor Show (italy 4-12 December) as the ideal location to present in world premiere the 2011 Corsa with its light facelift, available from next January in many European dealers.
EcoFLEX: Opel is back on the catalog with the ecoFLEX version: equipped with the 1.3 CDTI  95 HP and Stop & Start system, according to the manufacturer, average comsuption, for three-door version, are just 3.5 liters per 100 km with 94 g /km.
Details by Insignia and Astra: Different style, closer to that lucky Insignia and Astra, with a front featured by a larger lower and larger air intake and a different grille. The Body colors choice is enhanced with the Guacamole white, green Grasshopper and henna. For lovers of personalization is available  a pack which includes two adhesive strips (white or black) crossing trough all car, with same tint for wheels and mirrors covers. Updated also the interior design coating materials that now have new colors. Also new is the two-tone instrument panel, the new multimedia system with Connect Touch & 5-inch screen dominates the center console and allows you to control the audio system with 7 speakers and review the navigation system information with three-dimensional maps of 28 countries as well as allowing the Bluetooth connectivity, USB and iPod.
Standard optional: Typical of  latest Opel generation is the offering of unique accessories as a dynamic headlights orientation, heated steering wheel, panoramic roof and the unique retractable FlexFix system  for bicycles transporting.
We cannot display this gallery
[youtube]
Similar News: