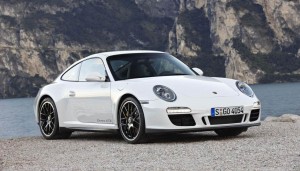 The Porsche 911 Carrera GTS has just been shown to the fabulous stand of the German brand, the presentation is currently at the Paris motor show which takes place in the French capital, 2 to 17 October 2010. The supercar is a special edition of German sports brand with boxer engine of 3.8 liter, 408 hp and 420 Nm of torque at 4,200 rpm (200 rpm lower than the Carrera S), available in both coupe ( * EUR 105,000) and cabriolet (EUR 112.00 *). It is an absolute a new symbol in the history of the GTS Porsche 911 and will occupy, in catalog, its place among the 911 Carrera S and 911 GT3. The Porsche 911 Carrera GTS version is presented to the public in a rear-wheel drive only, with wider body and width, a line on which stands the front spoiler "SportDesign" black, logos identifying "Carrera GTS" on the sides and rear, and ending with the black 19″ inch RS Spyder alloy wheels. Black are also the side skirts and interior, where there are many standard elements covered with black Alcantara to embellish this new sports car. 911 Carrera GTS is powered by the 3.8 6-cylinder boxer with a collector 's Intake with 6 resonance control valve, the system chosen by German engineers to improve the power output and torque, which stand at 420 Nm at 4200 rpm.
We cannot display this gallery
The transmission is a 6-speed manual but can be opted a PDK unit robot dual-clutch 7-speed. Performance: Maximum speed of 306 km/h, acceleration 0 to 100 km/h at 4.2 seconds, combined fuel consumption that gets 10.2 l/100 km and emissions at value of 240 g/km of CO2 (values for the 911 Carrera GTS equipped with PDK).
(* compared average prices in europe)
[youtube]