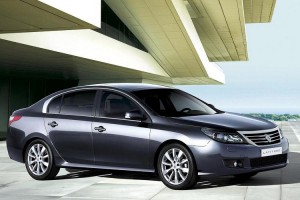 First official photos of new Latitude Renault european version, already been commercialized in Morocco, Algeria, Russia, Ukraine and in several African countries, were released at the recent Paris Motor Show. The model for the Old Continent is featured by some aesthetic details and engines.
Size: The new medium-sized sedan replaces the unlucky model Vel Satis and is oriented with smart and traditional design. Renault Latitude measures nearly 4.90 mt in length, 1.48 mt in width and a wheelbase of  2.76 mt, more than enough space to accommodate five people on board, who will have their knees in 251 mm of space. The luggage compartment is also spacious with its 477 liters.
Engines: Renault offers three engines for Latitude, among which the most interesting for the European market will definitely be the 3.0-liter V6 dCi 235 hp, very athletic with 450 Nm of torque, which according to french brand, allowing the car to a maximum speed of 235 km/h and 100 km/h from rest in 7.6 seconds. Latitude V6 is only available with automatic transmission. Other engines are available: a petrol 2.0 liter 140 hp and two diesel engines: a 2.0-liter dCi with 150 hp or 175 hp. Renault has given emphasis to the fact that its engines are equipped with a chain instead of timing belts used by some competitors that require much maintenance, as well as the ability of fitting all diesel models with particulate filter as standard. Pack equipment of Renault Latitude are two, "Business" and "Initial".
Standard optional: Renault Latitude has many extras as standard such as dual-zone automatic climate control with ionizer that spreads the fragrance, the driver can be massaged into four different modes, the keyless ignition system, there are a navigation system and rear camera to facilitate parking, bi-xenon headlamps and LED headlamps.
Latitude Renault will arrive in dealerships in January 2011. The french carmaker, meanwhile, has already announced the price for the diesel versions in France: range from € 32,500 for the 2.0 dCi 150 hp version Business to € 45,000 of the 3.0-liter, 240 hp version Initial.
[youtube]
Similar News: