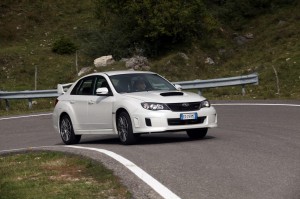 Subaru has released, recently, technical details and list prices of the Impreza WRX STI model year 2011, icon of the aggressive version of Subaru's performances, this is the version sedan revised in many details, with a huge trunk and back spoiler. The front now is more curved and with blackened grille-headlights and balance lower than 5 mm. The wheel arches are wide and the back is made even sportier by four tailpipes. The real strength of the Subaru WRX STI is the four-cylinder boxer 2.5-liter supercharged. The engine is almost 300 hp with max torque of 407 Nm at 4,000 rpm. The six-speed transmission is full drive. The central locking differential called DCCD (which can be adjusted depending on the driving style and road conditions) distributes torque to both axles also with locking differential. Not only sprint and speed are main ingredients of the new Subaru, but also a lot of technology at the attention of active and passive safety of individual passenger.
We cannot display this gallery
We find the standard electronic stability control that can be turned on and off and the important electronic engine management which finds its implementation through a system known as Si-Drive (Subaru Intelligent Drive) working by changing the engine mapping in an electronic parameters such as the amount of fuel injected, the advance ignition and the distribution phasing , with a simple touch of a knob. One tool that has a total three programs available, including 'smart', suitable for the slippery surfaces, 'sport' for a more prompt and responsive and the 'extreme sport' that is ideal for the track, where it is necessary to have the maximum performance with absolute control.
[youtube]
Similar News: