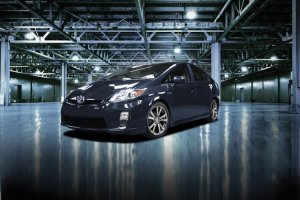 Toyota wants to change the concept of hybrid vehicle with new Prius Plus Performance Package.
Toyota Prius hybrid is a car with excellent fuel efficiency, nearly 25 km with one liter of petrol, but aesthetically never received too much attention from the public. although is the best-selling hybrid in the United States. When customer thinks of buying a hybrid car, definitely look for a model which should be modern, with low fuel consumption, low emissions, with performance a bit lower than conventional fuel cars but still appreciable. Toyota wanted to change the hybrid vehicle concept by adding some sportiness to its range and with the announcement of the new version Prius Performance Plus Package.
Prius Plus Performance Package  changes with a new design and a little the aerodynamic too.
The new package of changes is geared to give a sporty design to the Prius Hybrid, affecting the range of body colors which include Blizzard Pearl, Classic Silver Metallic, Gray Metallic and Black Winter.
The sports kit of the Prius Plus Performance Package has been created to further cut the drag coefficient, with the addition of a spoiler on both the front and rear bumpers, air diffuser and side skirts. The Prius Plus Performance Package also receives changes to the balance with the height reduced by 2.8 cm to the front and 3.3 to the back. Finally, the new package also includes 17″ five-spoke alloy wheels and 215/45 tires.
Between $ 3,000 and $ 3,700 as extra for the Prius Plus Performance Package.
The engine of the Prius hybrid features a total of 136 hp delivered by the 1.8-liter engine combined to the electric motor. According to Toyota, the Prius Plus Performance Package can start from 0 to 100 km/h in 10.4 seconds and get a top speed of 180 km/h. The car with the new package is now available only in the United States and will be available as optional extra to all Prius models. The price is between $ 3,000 and $ 3,700 which aren't little if considering it changes just the aesthetic but not the mechanical of the Prius Plus Performance Package.
[Not a valid template]
[youtube]
Similar News: