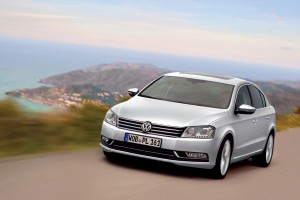 Volkswagen Passat has been presented for the first time in 1973, has so far scored more than 15 million sold cars and in over 100 countries around the world. New 2011 Passat, now with its seventh generation, has just been shown at recent motor show in Paris with VW style but also with quality and technology unthinkable up to now for an average car.
The new sedan of  Wolfsburg arrives with unchanged equipment, in the context of each pack, but there are important news.  In the case of turbo-diesel versions Trendline: they are equipped as standard with automatic start-stop device and self-charging battery on all petrol engines. For those who want the most out of new Passat is also available a special pack created by Volkswagen R GmbH and will be called Exclusive.
New Passat as the new car design, takes particular account of the reduction in fuel consumption and harmful emissions. A reason behind one of the most important innovation: the replacement of the 3.6 L V6 300 hp with a 3,0 L of displacement. However, the new Passat will not miss to bring important debuts: the hybrid variant, the new diesel engine from 300 hp, the eight-speed dual-clutch DSG trasmission. The entire engine range (10 in all) has been optimized, however, each engine is optimized on fuel consumption and emissions up to 18%.
The 2011 Passat uses industry-leading safety systems, as in fact the emergency braking system and cruise control, was also introduced the device that can monitor the driver's attention, the bi-xenon headlights, the light assists and floodlights. Still does not end the list of systems available which also include Side Assist, XDS electronic differential and tyre pressure sensor. The interior, however, does not lose the proverbial versatility with more higher quality coatings. Pricing hypothesis? From 25.900 €. New VW Passat goes on sale later this month.
We cannot display this gallery
[youtube]