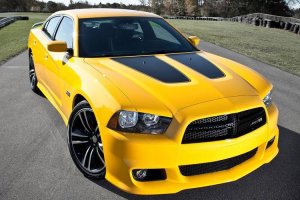 Super Bee the right designation for a muscle car.
One of the most viewed cars at the 2011 Los Angeles Motor Show is the Dodge Charger SRT8 Super Bee, brand's ever-popular Charger muscle car equipped with a powerful Hemi 6.4-liter, 465 hp and 630 Nm of torque. The Super Bee designation was first used on a 1968 Coronet model, then in 1971, the designation moved on the Charger car. After that took long time before it was applied once again, this time on the Charger SRT8 Super Bee model in 2006, 2007, and the last one in 2008.
SRT8 Super Bee design and performance.
Available in the colors Yellow Stinger and Pitch Black, with special graphics packages  yellow-black or gray-black inserted on the front, rear-end spoiler, on the side and on seat headrests. Inside the cockpit, the cloth sports seats feature a Z-stripe with yellow and silver striping. Equipped with special 20-inch alloy wheels 20-inch, will be on sale from 2012. As always happen whit a unveiled Super Bee, it promises exciting performance, just 5 seconds to start from 0 to 100 Km/h and 280 km/h top speed. The 2011 Charger SRT8 Super Bee will be ready for order in next December, with cars reaching dealers in spring 2012.
2012 Charger SRT8 Super Bee Pictures
[Not a valid template]
[youtube]
Similar News: