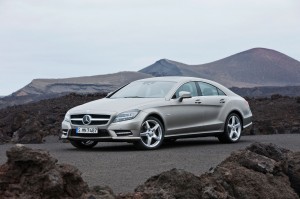 Mercedes has released, while was the official launch at the Paris Motor Show,  new images of the CLS,  its renewed four-door coupe that will go on sale across Europe from next January. The first generation was successful in sales with the 60% of buyers coming from different brands. The new Mercedes CLS four-door coupe and four-seater brings with its evolution: technology, engines, transmission, safety equipment, all have not been overlooked by technicians of the Star logo. Compared to the older generation, the width between door's panels has increased by 23 mm to rear and 30 mm to front, but especially the ergonomics makes difference. The four seats have details without being constrictive. On request is then possible to have the front seats "multicontour" ( support adjust according to curves and a massage function), as well as heating and ventilation of the seat, and the rear seats heating, all optional accessories. Among the great innovations of new Mercedes CLS must be reported the headlights High Performance LED (optional), which combines the attractive color similar to daylight of LED technology with the performance, functionality and efficiency Bi-xenon energy generation. The new lighting system offers for the first time, the Intelligent Light System combined with LED technology. Equipped with 71 Led  the CLS will have highest efficiency levels. Efficiency also is for the four engines, which have grester values of torque and power than earlier models, while consumption has been drastically reduced of 25%.
We cannot display this gallery
The new CLS coupe also offers a lot in security: when you're tired or distracted, "she" notices and alerts you with audible and visual alarms – Attention Assist-, if you are inadvertently changing lanes – Lane Keep Assist -, or when you're doing it with the arrival of another vehicle – Blind Spot Assist – these various devices are able to put the vehicle in the right direction through action on the brakes and able to change the trajectory. At the launch will be two 6-cylinder: the 350 CDI BlueEFFICIENCY with 265 hp and 350 BlueEFFICIENCY with 306 hp, both with Eco Stop/start standard. Both of these CLS versions reaches 250 km/h (electronically limited) but the CDI gets 16.7 km/l (declared) and the 350 petrol stops at 14.7 km/l. Finally, both fitted with the 7G Tronic trasmission. Later, probably around March or April, the range will be completed with the arrival of the 250 CDI BlueEFFICIENCY with 204 hp (for which Mercedes says amazed consumption: 5.1 liters per 100 km) and 500 BlueEFFICIENCY 408 hp V8. Prices – European average – start at 58,000 euro for the CLS 250 CDI BlueEFFICIENCY 204 hp to 62,000 euro for the CLS 350 CDI BlueEFFICIENCY with 265 hp, up to 63,000 euro for the CLS 350 with the V6 petrol 306 CV.
[youtube]