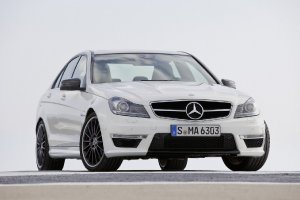 Mercedes is preparing to show latest version of the range at the Geneva Motor Show (3-13 March 2011), we are talking about the new C63 AMG. From first official images, the C 63 AMG shows clearly a look even more aggressive, with two fine ribbing on the bonnet.
SPORTS DESIGN: The 2012 C63 AMG is available as usual in both sedan and wagon and takes those detail's modifications already seen in Detroit, as the new grille, headlights and exclusive re-shaped bumper. The enlarged front spoiler, 18 " wheels with multi-spoke design, the small rear wing and new tail are all part of classic special standard pack of the C63 AMG.
ENGINE: the new sporty AMG C-Class retains the previous 6.2-aspirated 457 hp and 600 Nm of course upgraded Euro 5, combined with the Speedshift 7-speed automatic. According to Mercedes-Benz, the C 63 AMG can accelerate from 0-100 km/h in just 4.5 seconds (a tenth more for the station), with consumption slightly lower than the previous model, 12 l/100 km (12.3 l/100 km for the wagon). Top speed is electronically limited to 250 Km/h for both.
With optional Performance package, power goes up to 487 hp, that enables the C63 AMG 2012 to make the same 0-100 Km/h respectively in 4.4 and 4.5 seconds. Even suspension has been upgraded and improved by AMG engineers, but to get more information on other specifications and prices need to wait for the preview at Geneva in early March.
[Not a valid template]
[youtube]
Articles across the web
Similar News: