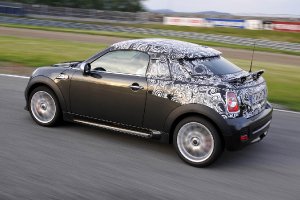 The Mini Coupe is the production version of the concept car that was shown at the 2009 Frankfurt Motor Show and will be again Frankfurt the stage of the official presentation of the definitive coupe, scheduled in September 15 to 25. Mini has released first official information and also some spy photos.
AT FIRST GLANCE: Mini Coupe, which comes with two seater, is 3.78 meters long, 1.63 wide and 1.37 high (-2.9 cm than the sedan). English designers cooperating with engineers added an active rear spoiler, which is integrated in the trunk and emerges automatically when it reaches a speed of 80 km/h, again closes when the speed drops below 60 km/h. The drive of the spoiler has also a manual mode, using the proper button on the dashboard console. The Mini Cooper Coupe features 15-inch alloy wheels, 16 "on SD and Cooper S and 17" on the sporty version John Cooper Works, also equipped with runflat tires. Although only two seater available, the German carmaker confirmed that the space available for luggage is still good, even if we do not have yet specifications about it. The Mini Coupe is equipped with electro-mechanical steering,  two modes programmable, normal and sporty. The braking system features 280 mm ventilated discs at the front, rising to 294 for the Cooper S and 316 mm for the John Cooper Works and SD, the back has  259 mm for all the version, except the JCW which comes with 280 mm disc. Among other standard optional the Hill Start Assistance, the Dynamic Stability Control (DSC) and Dynamic Traction Control (DTC) with the differential lock (EDLC) as optional extra.
ENGINE AND BALANCE: Mini folk have paid a special attention to the balance setup as well as to the weight distribution to further improve what they had already promised to offer with the sedan version: the "go-kart-feeling". Under the Mini Coupe hood will be fitted four different engines: a petrol 1.6 Twin Scroll 211 hp for the Cooper Works version (0-100 km/h in 6.4 seconds), the petrol 1.6 by 184 hp for the Cooper S and the petrol 1.6 by 122 hp for the Cooper version. The diesel 2.0-liter, has 143 hp with 305 Nm of torque. Mini declares very good performance, with speeds between 204 and 240 km/h and acceleration values on the 0-100 km/h between 9 and 6.4 seconds. As for fuel consumption and emissions, the Mini Coupe gives the best efficieny with the version SD, which promises 4.3 l/Km and114 g/km of CO2. A six-speed manual transmission is available for all version, while the Cooper S, JCW or SD can also have the automatic six-speed.
[Not a valid template]
[youtube]
Similar News: