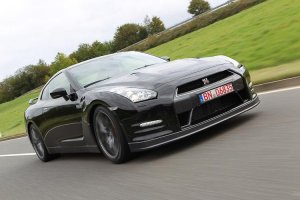 New Nissan GT-R 2012 Model Year with some improvements.
Nissan has just revealed the 2012 GT-R as new Model Year. The Nippon supercar didn't change much in the aesthetic but it has been upgraded mechanically, now has 550 hp delivered from the same 3.8-liter twin-turbo V6 at 6,400 rpm and maximum torque from 612 to 632 Nm constant between 3,200 and 5,800 rpm. After current model's debut in 2007, Japanese folk said it would be hard for them to get better and now this is a substantial 70 hp improvement. What's more, they also dragged fuel economy on the combined cycle up from 12 l/Km to 11,8 l/Km.
Performance on the 2012 Nissan GT-R are even more interesting than the current generation: the sprint from 0 to 100 km/h is burned in less than 3 seconds, while top speed is around 320 km/h.
There's other exciting changes as different spring rates and rear suspension geometries from one side to the other to obtain always the right balance even if the driver's mass is substantial. After this, the 2012 Nissan GT-R receive a power increase with more torque, better intake efficiency, better exhaust valve cooling performance and lower air flow resistance. The cabin now offers a rear view camera installed as standard, new sound system to further enhance sound quality, the old Bose sound system woofers, have been replaced from a Bose Precision Sound System woofers.
Further changes on the Nissan GT-R regard the right-hand drive cars, with new variant Track Pack that comes with only two seats and reserved exclusively for Japan, United Kingdom, Australia and South Africa. This version incorporates some features of the Spec-V , as the sportier balance, a more efficient braking cooling and specific front spoiler.
Pricing for the 2012 model's expected to rise up to € 90,000 from 85,000. A lot for most of pocket's buyers, but not a lot for a car that's performance is only challenged by mid-engined Italian supercars, and not a lot if we consider that the Porsche 911 Turbo S with 530 hp is priced at 176,000 euro.
The new generation Nissan GT-R is expected to arrive in Europe's show room next year in January (in Japan, however, will be available from this November 24).
[Not a valid template]
Similar News: