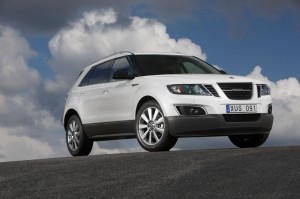 The Saab 9-4X will debut at the Los Angeles Motor Show (19-28 November) marking the Swedish's entry in the medium-sized crossover segment. The Saab 9-4X, already seen two years ago as a concept, is a medium-sized SUVs built on a GM platform and used as mechanical base for several models including the Cadillac SRX. On few words, the Saab 9-4X was already planned before the crisis, which has led the Saab in the hands of Spyker supercar manufacturer . The designer, took over all the elements from the Scandinavian brand to highlight the muscular shapes through large arch wheels and a imposing front. The Saab 9-4X has been designed especially for American's tastes and American customers, in fact, the first commercial launch will take place in the USA and subsequently in Europe in summer 2011. There are two V6 engine with 6-speed automatic transmission equipped with a sequential mode, with steering wheel controls for the version Aero. It starts from the known 3-liter direct-injection 265 hp while the more powerful is the twin turbocharged 2.8-liter 300-hp and 400 Nm of constant  torque from 2,000 to 5,000 rpm.
We cannot display this gallery
The aspirated 9-4X  reaches 210 km/h and gets the 0-100 km/h in 9 seconds, with the supercharged goes up to 230 km/h and sprint time is shortened to 8.3 seconds. Not confirmed, at least for the moment, the arrival of front-wheel drive versions. There may be a chance to get a diesel version with 4-cylinder BMW engine, because GM does not seem willing – at least for now – to create a logistics for the production of diesel engines in Europe.
[youtube]
Similar News: