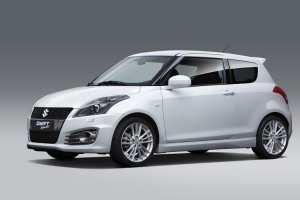 Suzuki Swift Sport – the sports version.
The Frankfurt Motor Show (September 15 to 25 the next) will be the stage for the presentation the 2012 Suzuki Swift Sport, the compact sedan that is dedicated to car drivers who loves the sportiness. The Suzuki Swift Sport features a 1586-L 4-cylinder engine that delivers 136 hp at 6900 rpm/min and a max torque of 160 Nm at 4,400 rpm.
The design of the Suzuki Swift Sport.
The Suzuki Swift Sport, which was anticipated from the Geneva Motor Show with the Suzuki Swift S-Concept, stands out the new front grille with honeycomb design and the rear spoiler, as well as multi-link rear suspension that operate with the satandard electronic stability control system. As always on this model, the Suzuki Swift Sport offers only the three-door body.
The new Suzuki Swift Sport non-turbo and 6-speed.
The Suzuki Swift Sport features the M16A petrol engine from 1,586-Liter, 136 horsepower at 6,900 rpm and 160 Nm of torque at 4,400 rpm, giving up the supercharging, despite the major competitors have used the turbo to obtain a power increasing. The new Swift Sport differs than the past with a six-speed manual transmission. The carmaer has not confirmed issued any performance data and possible changes in the cockpit. In terms of passive safety there are 7 standard airbags.
The price of the Suzuki Swift Sport.
The definitive information on the commercial launch of the Suzuki Swift Sport for the European market will be announced at the 2011 Frankfurt Motor Show, next month.
[Not a valid template]
2009 Suzuki Swift Sport (video)
[youtube]
Similar News: