Blues Brothers 2000, Son of the Mask and Dirty Dancing: Havana Nights. Three very forgettable examples which highlight how the follow-up to an original success is not always guaranteed to achieve similar highs. And it's not just in the world of film where sequels can be a dangerous proposition.
Music has its proverbial 'difficult second album', whilst football players are always told to 'never go back' to a club they may have previously been successful. When it comes to cars there are similarly bleak reminders that the second version is not always as good as the first. Remember the Ford Mustang II? No of course you don't, and for good reason.
All of this – well, perhaps not Dirty Dancing – would have been playing in the mind of BMW's designers as they began creating the follow-up to the manufacturers much appreciated 1 Series Coupe. Incredibly reliable with expensive looks the Series 1 Coupe regularly scored highly in reviews, and set a significant precedent ahead of 2014's Series 2 Coupe.
Thankfully, the early indications are that BMW haven't tried to reinvent the wheel when it comes to their 2 Series Coupe. It may not be due out until January 2014, but the German manufacturer has been far from coy about the characteristics of the new model.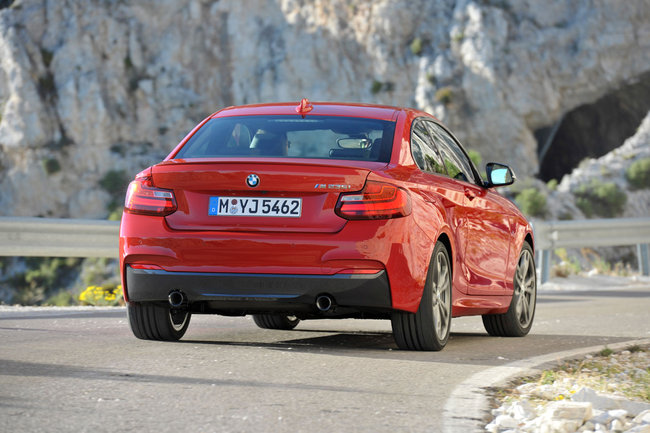 DESIGN
Considerably larger than its predecessor, but far from clunkier, the 2 Series has a refined sporty feel created by BMW's in-house designers. Overseen by brand design head Karim Habib the BMW design team have been able to maintain the classic low-slung coupe look of the BMW by incorporating an 'active' hood system for pedestrian protection. BMW's own site calls it an 'unmistakeably athletic design', suggesting you might mistake it for Jessica Ennis if you're not careful.
EFFICIENCY
Another area in which the 2 Series Coupe makes bold forward strides from the 1 Series is efficiency. Through extensive use of BMW Efficient Dynamics technology, including Air Curtains, which channel the airstream to reduce resistance, and an Auto Start/Stop function which will for sure aid premiums on temporary car insurance. It must be said but the BMW 2 Series is a much more efficient vehicle than its predecessor.
INTERIOR
According to BMW's press releases the interior of the 2 Series is driver focussed, referring to the driver seat as a cockpit, with all that the user needs surrounding them. From an idrive operating system to a 6.5 inch Control Display all within easy reach from behind the wheel.
GADGETS
That Control Display screen is central to BMW's Connected Drive system which boasts all manner of systems to aid the driver. From parking assistant and rear view camera to integration of smartphones and music players as well as BMW Apps. Basically, it's more connected than your home office.
In short the BMW 2 Series has got all that the 1 Series had going on and much more. To get an idea of where this sits in the Coupe spectrum then it could well be worth seeking one day car insurance to take a test drive for yourself and see. But for now, when it comes to sequels this is much more in the field of Bill & Ted's Bogus Journey than Grease 2. Most excellent.