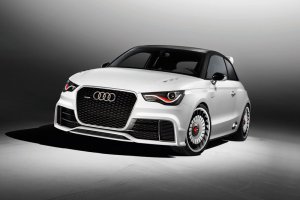 Audi Clubsport Quattro is the latest "provocation" launched, in terms of extreme car, from the German brand. The car was officially unveiled at the 2011 Wörtherseetour (June 1 to 4 Reifnitz, Austria), an annual gathering fans of Audi, Skoda, Volkswagen and Seat.
DESIGN: the prototype, designed with a extreme sporty look, is of course just a show car but is unique and  is a business card as technological showcase of the Ingolstadt brand. At first sight, soon becomes clear that the Audi A1 Clubsport Quattro isn't a normal car: the alloy wheels follow the extreme style of Wörtherseetour, 19-inch with 255/30 tires. The braking system uses carbon-ceramic disc perforated with six-piston calipers on the front, while behind were used steel discs. The suspensions of this A1 Clubsport Quattro are full adjustable.
ENGINE:  they have fitted the 2.5 liter five-cylinder engine (same as of the Audi TT RS and RS3) changed up to achieve 503 hp and combined with all-wheel drive and 6-speed manual transmission. Thanks to the interventions to the turbine, intercooler and the exhaust system, the prototype generates 660 Nm between 2,500 and 3,500 rpm. According to the latest news, the A1 clubsport quattro starts from 0 to 100 km/h in 3.7 seconds and reaches a speed of 200 km/h in just 10.9 seconds. The top speed is 250 km/h, but is limited electronically.
Among the important technical details is the weight of just 1,320 kg, +200 kg compared to some production cars. This optimal result, obtained by Audi engineers, have been possible thanks to the carbon fiber used to build many body parts, like the roof, then removed the back seat and for the front have been installed the ones of the racing R8 GT. To see the Audi Clubsport Quattro speeding on roads is quite impossible, it is certainly possible to drive it in the latest video game Need for Speed ​​World.
[Not a valid template]
[youtube]
Similar News: