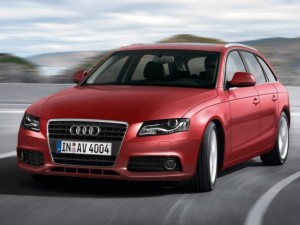 Audi Celebrates the thirtieth anniversary of the permanent four-wheel drive first introducion, the celebration comes with the new "Style" and "Business" equipments available on Audi A4 and Audi A4 Avant quattro 30 years edition 2010, limited edition of course.
S line look: The Ingolstadt brand proposes sporting aesthetic changes available on the four-wheel drive version (front air intakes, chrome frames for the fog lights, S line logo to the front fenders, panoramic roof and Xenon lights with  light/rain sensor.  Also on the Audi A4 and Audi A4 Avant 30 years four editions are the latest multimedia technologies such as satellite navigation system with DVD using the MMI , Bluetooth, multi-screen color at the center of dashboard, Audi Music Interface.
Excludes are S4 and S4 Avant models, these can be combined with "Advanced" and "Ambiente" equipments and to other list packages.
The new Audi A4 sedan and Audi A4 Avant Quattro 30 Years Edition will be offered in Europe at extra price of 4,300 euros average, there is a saving estimated at 55% for those who buy the Audi A4 Sedan and 57% for the Audi A4 Avant.
We cannot display this gallery
Similar News: