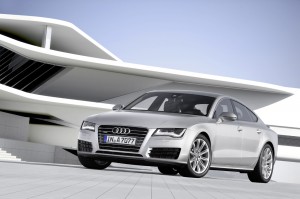 The A7 Sportback shows an extremely dynamic tailed, the elegance of a sports coupe, the comfort of a sedan and the ductility of an Avant. Ingolstadt brand so enter in the 4-door big coupe segment, launching its challenge to the Mercedes CLS debuting at the next Paris Motor Show and arriving to dealers this autumn.
Advanced technology: Thanks to many components in its aluminum body, the A7 Sportback is very light and pure high-tech. The five-door Audi coupe presents an accurate processing of high craftsmanship, has a 20% body in aluminum as the Porsche Panamera, which is also similar in size. All three direct-injection V6 engines are docile, powerful and extremely efficient, are integrated standard equipments as stop-start and sophisticated systems managing the thermal and kinetic energy to achieve maximum efficiency. The A7 Sportback is 4.97 meters long and 1.91 meters wide, but only 1.42 meters high.
Powerful engines: two petrol engines, both with S Tronic dual-clutch gearbox with seven gears and all-wheel drive: the first is a 2.8-liter with active valve control system and delivering 204 hp at 5,250 rpm , the second is a 3.0-liter supercharged that delivers 300 hp between 5,250 and 6,500 rpm, it takes 5.6 seconds from 0 to 100 km/h .
Diesel versions are also two, a TDI 204 hp with only front wheel drive and multitronic gearbox , takes 8.1 seconds at 0-100 km/h,  last is a 245 hp performing from 0 to 100 km/h in 6.5 seconds.
Interior is all electronic: the A7 Sportback cockpit is sporty and more simple than the latest Audi ,while shows a waste range of electronic equipment as the  MMI screen combined to "MMI touch" managing the Navigation on hard disk – giving the possibility of including a touchpad, a new head-up display showing the most important information on the windscreen, connection to Internet through phone car kit, Bang & Olufsen sound system with 15 speakers and 1,300 watts output, also the A7 has a semi-automatic parking system.
The A7 is expected to arrive in dealerships by end of year with a price that, at least in Germany, should start from 51,000 Euros. Planned engines for the future are a V8s and V10 in the S7 and RS7 versions and further more a hybrid A7 4-cylinder.
We cannot display this gallery