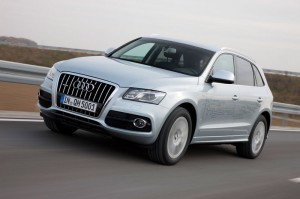 The German manufacturer of the Four Rings decided to specify new Audi Q5 Hybrid technical details, revealed in part during the days passed. The new version is the first hybrid of the existing range, which will unveiled at Los Angeles Auto Show 2010, scheduled in November 19 to 28.
245 Hp of power: The Audi Q5 Hybrid , has 245 hp (180 kW) and 480 Nm of torque, interesting values for a hybrid system based on two-liter gasoline TFSI 155 kW and an electric motor 33 kW, that according to the manufacturer, nshould allow the German SUV to reach 222 km/h with sprint from 0 to 100 Km/h in 7.1 seconds. Audi Q5 Hybrid is equipped with a "Full" parallel hybrid system composed of the 2-liter TFSI turbo direct injection fitted with variable valve timing distribution, able to develop on its own 211 hp and 350 Nm of torque between 1,500 and 4,200 rpm.
Japanese battery: The lithium ion battery, that weighs 38 kg and occupies 26 liters volume, is from Japanese Sanyo, the first company with which the Volkswagen Group has entered into an agreement. The 72 cells, each 3.7-Volt and weighing about 200 grams, and the electronic control system that also manages the recharge and maintained between 30% and 80%. The cell structure is on two parallel lines crossed by an air passage for cooling which is connected to the electric air conditioning system.
We cannot display this gallery
The trasmission called to manage the technical system is the eight-speed Tiptronic automatic transmission, with no torque converter, coupled to a clutch multiplate clutch, which has the task of connecting or disconnecting the motor from the gasoline engine. The Audi Q5 Hybrid starts like any other system with keyless Q5: By pressing the metal button on the center console near the gear lever with your foot pressed on the brake. The top speed in electric mode is 100 kilometers per hour, but if you travel at a constant speed of 60 Km per hour, you can run three Km without any emission.
The look: Audi Q5 Hybrid shows exterior's identification badges, 19-inch turbine-design alloy wheels (available in other types of 19 or 20 inches), polar silver paint, decorated in shiny black radiator grille, chrome exhaust.
The Audi Q5 Hybrid will be on the market in about a year and the price will greatly exceed the 50,000 euro.
[youtube]
Similar News: