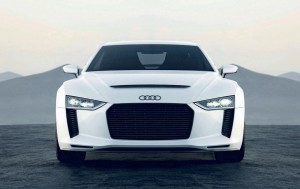 The Audi Quattro made its debut At the Geneva Motor Show in 1980, a fundamental historical icon for full-wheel drive applications that have followed on subsequent production and for the racing successes achieved with the racing version Quattro Sport in most prestigious rallies as Monte Carlo. The German carmaker, at the 2010 Paris Motor Show sets out the Quattro Concept as show car that recalls the car's essence of those years, sporty with aggressive shapes, large grille, the air intake on the hood, large side air intakes and widened wheel arches, spoilers and bumpers made of carbon fiber.
We cannot display this gallery
Compared with the  earlier coupe, it has a wheelbase shorter than 150 mm and roof line shorter of about 40 mm. Measures are 4.28 m long, 1.86 wide, 1.33 in height and a wheelbase of 2.60 m. The interior of the Quattro Concept is a rare example of rationality and simplicity of design. The rear seats have been eliminated as a result of the wheelbase's reduction, the three-spoke steering wheel is old-fashioned and full digital instrumentation is inspired by the Audi Quattro of the '80s. The engine, however, is the same as the TT RS, which is a five-cylinder turbo (as the original Audi Quattro) 2.5-liter gasoline led to output of 408 hp (300 kW), allowing the car to speed from 0 to 100 km/h in 3.9 seconds. The transmission is a 6-speed manual and traction is obviously full. To break such great power there's a brake system made up of large carbon-ceramic discs mounted on 20″ wheels. Consumption is not to be ignored, the Audi Quattro Concept needs 8.5 liters of fuel per 100 km.
[youtube]