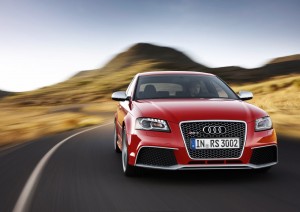 Audi has now released  first information on the RS3 Sportback version based on A3 Sportback platform and equipping the same TT RS engine: the 5-cylinder turbo 2.5 TFSI with 340 hp and 450 Nm. RS 3 is proposed as 5 doors Sportback variant and anticipates its presentation, only a little, from direct competitor BMW 1-Series M Coupe.
340 hp: The "heart" in the RS 3 is the known 2.5 5-cylinder turbo direct injection of the TT RS, combined with the dual-clutch gearbox with seven gears and four-wheel drive. Engine allows to take Sportback Audi RS 3 from 0 to 100 km/h in 4.6 seconds and reach 250 km/h electronically limited.
Revised trim: To cope with powerful RS 3 performance, Audi has expanded the car track, revised  the steering calibration, lowered the trim of 2.5 cm, stiffer springs and 19 inches wheels. Curiously, front tires are larger than rear (235/35 v 225/35), this solution provide a greater grip of the front, should benefit the car balance of understeer when cornering. There are also a boosted braking system, with 370 mm front discs (perforated and vented) and 310 mm rear, ESP (recalibrated) that can be less intrusive (in sport mode) or disabled completely.
Aggressive aesthetic: the car combines the known look of the A3 Sportback with the turbulent beauty of latest RS versions, a summary of elegance and nastiness with huge air intakes, enlarged fenders, aerodynamic surfaces made of carbon fiber and sporty exhaust. Those of the RS3 Sportback are equipped with a valve silencer and, from cockpit, can be opened with the "sport" button that occurs simultaneously reducing the ESP effects and changing the gearbox settings, allowing the engine to generate a more powerful sound but also to deliver the highest performance. Sports seats are in Nappa leather with silver stitching. The sports steering wheel is with flat bottom and new driver's display functions as the turbo pressure, oil temperature and lap time. The car will be assembled in Gyor, Hungary, and will have a strike price of 49,800 euro in Germany, where it will be available from January 2011.
[youtube]
Similar News: