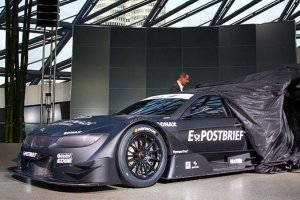 The BMW M3 DTM Challenge Audi and Mercedes.
Waiting for the new BMW 1-series and 3-series that will arrive in 2012, the German carmaker has unveiled the BMW M3 DTM, a concept car built in anticipation of the participation in the Deutsche Tourenwagen Meisterschaft, the German Touring Car Championship. This competition is a category much followed both in Germany and abroad, where the BMW M3 DTM, not yet a definitive car, will challenge rivals as Audi and Mercedes.
After 20 Years, Back With The BMW M3 DTM.
The BWM M3 DTM represents the return of the German manufacturer in the more advanced competitive tourism competition in the world and thi is after almost 20 years. Obviously the car is still being tested and therefore is just a concept but it is already possible to see what wirll the aerodynamics choises. The BWM M3 DTM will be deployed by at least three teams (Schnitzer, RBM and RMG) and to driven it there will be certainly two drivers who have won a lot under the BMW flag: the English three times champion in the WTCC Andy Priaulx and the Brazilian Augusto Farfus. The BMW has participated in the DTM between 1984 and 1992, winning three competitions – Volker Strycek (BMW 635 CSi) in 1984, Eric van de Poele (BMW M3) in 1987 and Roberto Ravaglia (BMW M3) in 1989. The first victory came in March 11 1984 in Zolder with Harald Grohs driving the BMW 635 CSI, while the last victory came on October 11 1992 in Hockenheim with Roberto Ravaglia with the BMW M3 Sport Evolution.
Less than 3 seconds from 0 to 100 km/h for the BMW M3 DTM Concept Car.
The car is 4.77 meters long without the rear big spoiler, 1.95 m wide, while the height is about 1.20 m, depending on the suspension settings. The engine of the BMW M3 DTM is the V8 4.0-L by 480 hp, which will allow the Bmw M3 DTM to accelerate from 0 to 100 km/h in less than 3 seconds with a top speed over 300 km/h.-Mention this article and save 20% on Bmw Parts at MyHotBimmer.
The Regulations for the DTM next season limit the number of standard components, to guarantee to lower development costs and reasonable if Compared to other car's competitions. Despi this limit, the BMW Motorsport folk Have Been Able to pulling out of the hat to great technical resources and innovation Establish performance advantages over Audi and Mercedes. The most important development areas of the Bmw M3 DTM has-been the engine and aerodynamics.
[Not a valid template]
[youtube]
Similar News: