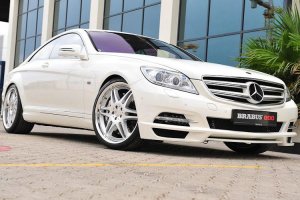 Brabus 800 Coupe designation tells its power.
After the fastest luxury sedan in the world, here we have the new Brabus 800 Coupe, claimed as the world's fastest and most powerful luxury coupe, which has debuted at the 2011 Dubai Motor Show. It's engine is based on the CL 600 model, engineers put their hands on the 12-cylinder engine which has been significantly boosted. The number 800 refers to the exact number of horses provided by the powerful engine installed, which obviously received some technical and structural changes to allow the car to deal with new performance. The base engine is in fact the 5.5-liter V12 adopted in the new Mercedes S 600 increased to 6.3 liters, which comes to release 800 hp and 1,423 Nm at 2.100 rpm. This operation has been achieved using a special crank with a longer stroke and both larger cylinder and pistons diameter.
Performance and further changes on the Brabus 800 Coupe.
The 800 Coupe can accelerate from 0 to 100 km/h in 3.9 seconds and reaches 200 km/h in 10.3 seconds. The top speed is 350 km/h. The big power of this coupe gets to the rear wheels via a reinforced 5-speed automatic gearbox. Brabus have designed a turbocharging system to replace the standard twin turbocharging, also added a carbon-fiber air intake integrated into the hood to help the combustion air. But we didn't finish yet as at the rear is installed a superb stainless-steel exhaust system while also the aerodynamics have been improved with new front and rear spoilers. The Brabus 800 Coupe can be purchased with 18 to 22 inch alloy wheels and is outfitted with a lowering suspension component which lowers the car's height by 25mm at the touch of a button.
[Not a valid template]
Similar News: