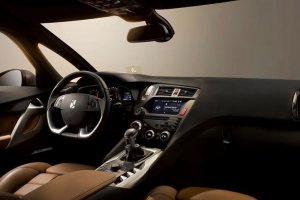 Citroen has chosen the social network Facebook to published the first official photos of the standard interior of the DS5 launched at the Shanghai Motor Show as a show car, fitted with the package Pearl White. The new images confirm the style of the model shown at the Asian show and relate to the version with six-speed manual transmission.
The Citroen DS5 points to its interior exclusivity and among the most featuring details, various new materials and fine finishes, aswell as the leather seat design that not only seek the passengers comfort but recalls the plot of a bracelet. The leather upholstery on the dashboard is limited to the eyelid above the instruments, while stands out the aluminum bouchonné inserts of door panels and on the central tunnel, the head-up display and the Denon hi-fi .
The size of the DS5 does not differ from those of the prototype in Shanghai (4.52 meters long, 1.85 wide and 465 liters in the trunk).
The Citroën DS5, approved for five people, will arrive on European markets by the end of 2011 and will be available with the HDi diesel version and the Hybrid4 , 4-wheel-drive by 200 hp, which have values ​​of CO2 emissions below 100 grams per km
[Not a valid template]
[Not a valid template]
[youtube]
Similar News: