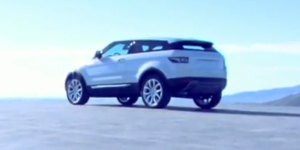 The little Range Rover LRX  already known, now has a final name: Range Rover Evoque. An important name wich represent the Group, not just for coincidence was presented at the London party for the four decades Range Rover anniversary.
The Range Rover Evoque will be at the Paris Motor Show in September and will arrive on the market in the summer of 2011. Will be the smaller, lighter and efficient range of  the history, emit less than 130 g /km of CO2. Will certainly not be a hard and pure off-road: you can also choose the two wheel drive version, as well as those with four-wheel drive.
"In 2008 we unveiled the LRX concept, which received a positive response all over the world," says Gerry McGovern, Land Rover design director, "so we decided to turn it into reality. The Evoque's style is an evolution to a modern design of the Range Rover: a unique silhouette, accentuated by the sloping roof.
"The Range Rover Evoque will be a true global car, sold in 160 countries," said Phil Popham, managing director of Land Rover. The model will be built at the English Halewood establishment and create a thousand new job's opportunity. To further underline the "British" style, the Range Rover, now owned by India, during the ceremony announced that the "very British" Victoria Beckham will collaborate with Range Rover's designers
We cannot display this gallery