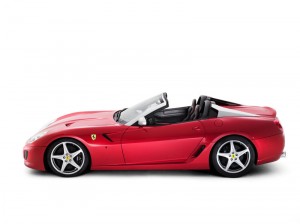 Here is the Ferrari SA Aperta, Opened variant of the Ferrari 599 Fiorano and designed to celebrate the 80th anniversary of Pininfarina, officially unveiled at the Paris Motor Show (2-17 October). The special series Ferrari SA Aperta will be only 80 units, the Prancing Horse will produce them as ultra-limited-edition. Even if you have plenty of money and a heart full of passion, it is useless to rush to sign a check: all the cars have already been booked. The charming Ferrari Sa Aperta, before being to the red stand in Paris, was presented this summer at the Pebble Beach Concours d'Elegance, United States, confidentially, to a groups of potential customers. The name "SA" has been coined to pay tribute to Sergio and Andrea Pininfarina, two men who tied the name of their company to the most successful Ferrari's models. The supercar is powered by the V12 engine with 670 hp top power – the same as the 599 GTO – located in the front.
We cannot display this gallery
The visual characteristics of the SA Aperta is the lowered windshield and the two fins with aerodynamic function covering two shaped roll bar  profile of the seats. The chassis of the Ferrari 599 has been stiffened, but without extra weight. Every Ferrari SA Aperta will be made on based customization program of Maranello's brand which provides endless combinations, so each piece is unique. The price? Strictly unveiled, but you can bet it will be a particularly ineffective. When Ferrari decides to produce limited series, has already sold out.
[youtube]