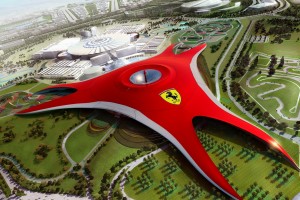 Ferrari theme park opens its doors just at four years from starting project, even if the prancing horse symbolizes a Made in Italy, the playground dedicated to the car, was built in the UAE. Ferrari World Abu Dhabi is the world's largest indoor theme park and associated with the F1 circuit on which is disputed the Grand Prix of Abu Dhabi. When the idea began seemed to be too ambitious, and after a few years, this wonderful structure, organized as a huge playground dedicated to Ferrari's history, opened its doors  to welcome the first visitors. This creation as largest indoor park in the world (86,000 square meters) is itself dominated by the largest Prancing Horse logo ever made, with a diameter of 66 meters and costs over $ 40 million. All this has been possible thanks to the UAE with a place available  in dealing with new adventures in the architectural and social-economic development. Among the main attractions is the amazing roller coaster that gives the feeling of getting on a real Ferrari F1. Fernando Alonso and Felipe Massa feel these strong emotions every day, here they are – both – wallow in the roller coaster seats, the most fastest in the world with the ability to reach the top speed of 240 Km/h, inspired by the Ferrari F1-2008.
The chief executive of Ferrari World, Claus Frimand, during the inauguration said: "Despite being indoors, it seems to be outside. The roof is set very high: is great 200,000 square meters, 67 meters high and has a diameter of 700 meters. There are no support structures, except for a central pier and a series of columns. "
RIDES AND FUN
Inside were made 40 rides including a  4D simulator and the world's fastest roller coaster (240 km/h). The park can host 7000-10000 visitors at once and is expected that the Ferrari World Abu Dhabi will become a hub of fun and all in honor of the Ferrari brand and the made in Italy.
We cannot display this gallery
Here are main attractions of the Ferrari World Abu Dhabi and revealed by the prestigious car manufacturer from Maranello, to tell the story, the passion, excellence, performance and technical innovations:
• Formula Red – the fastest roller coaster in the world, reaching 240 km/h.
• Speed of Magic – amazing trip to the 4-D that plays the adventures of a young man in a kaleidoscopic dream environment of nature and exceptional views,  go where no Ferrari has gone before.
• Made in Maranello – virtual tour beyond doors of the famous Ferrari factory in Maranello, through the production's process of a Ferrari.
• V12 – Journey into the heart of a 12-cylinder Ferrari 599 engine. As you drop into a colossal world, you'll float from the grill to the burning heart of the engine where the power of Ferrari originates
• G-Force – a thrilling ride on a seat inspired by the Ferrari Enzo, up to 62 meter high on central tower of the park, before returning to the ground proving the true gravitational force of a Ferrari.
• Scuderia Challenge – a ultimate racing simulator on the edge of reality, similar to those used by the Scuderia Ferrari during training.
• Trip to Italy – the virtual air travel on Italian cities and major monuments, mountains and coasts, following a Ferrari.
• Fiorano GT Challenge – a roller coaster where you can challenge up to the final sprint on narrow curves with Ferrari F430 Spider.
• Bell'Italia – miniature's recreation of most famous Italy places, from the picturesque Portofino and the Amalfi Coast, the Monza track, and even the Colosseum in Rome, Venice and Maranello, the heart and Ferrari's home.
• Paddock – Ferrari's home reproduction from the garage, transport, rooms dedicated to hospitality, interactive shows that give fans a feel of real action and the background during a Grand Prix.
• The Pit Wall – the game in realistic scenarios where to test for race.
• Galleria Ferrari – the largest Ferrari's galllery in the world after that of Maranello, get up close and personal with the ultimate display of Ferrari cars.
• Junior GT – a driving school with experienced instructors for children, to test F430 GT Spiders on a reduced scale.
• Junior Grand Prix – after driving GT Junior, young riders can test a track on Ferrari cars in a small scale.
• The Racing Legends– a journey through the greatest moments in Ferrari history, winning first race until today.
• Driving with Champions – the show interactive 3-D which follows the adventures of a young engineer – In this motion based simulator step from the GT to the F1.
• Cinema Maranello – When you enter this grand old Italian theatre you'll step back into the 1920s where the film the "Coppa di Sicilia", is on the legendary life of Enzo Ferrari.
• Junior Training Camp – the interactive play area for children where to try the waterless car wash, to become builders, climb up the grandstand, pilot remote cars, peddle your own Ferrari and play with an F1 car and playing with a miniature F1 car made of soft foam.
• Carousel – This is Ferrari's version of the traditional carousel, featuring various Ferrari concept cars based on the winning designs from a Ferrari student contest
• Dining and Shopping – guests can enjoy the variety of bars and theme restaurants for a complete experience of Italian cuisine, and unique location for shopping
[youtube]
[youtube]
Similar News: