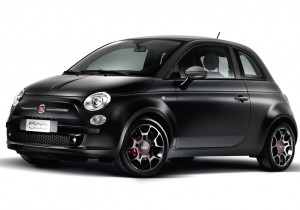 The new model of the "500" continues to generate interest while Fiat rides the wave and tries to carry on churning out new versions of its jewel. La italian House car to date has sold more of 500,000 units and soon the Italian house is preparing to land in the U.S.A.
Dark style: we're going to talk about the new 500 Limited Edition BlackJack, just so, a 500 all black body with special treatment of matte paint, alloy wheels 16 " blacks that blend with the body, in short, a model for "dark style" lovers. On the 500 Blackjack limited edition, colored red leather seats stands out,  can be chosen in (guess..).. black, the steering wheel shows off silver stitching, as well as the shift gear knob.
Green Engine: even on this limited edition will be available 0.9-liter TwinAir engine of 85 hp, a masterpiece for energy savings, are also provided the 1.2-liter 69 hp, the 1.4 liter 100 hp petrol with red brake calipers.
Prices: the turinese car maker gave few price reports for the 500 Limited Edition BlackJack,
we only know that version 1.3 Multijet 95 hp with red interior leather Frau will cost 18,350 euros. Market launch in September.
We cannot display this gallery