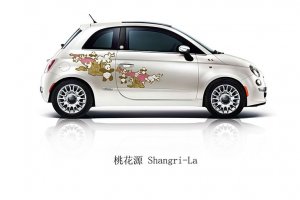 Fiat 500 First Edition limited to 100 units for China.
The Italian carmaker has just unveiled the Fiat 500 first Edition at Shanghai, a special version and limited to just 100 units for the Chinese market. The new version of the small city-car is a true work of art, in fact, the Fiat 500 First Edition shows several custom graphics created by 5 ​​Chinese designers.
The idea of ​​producing this special edition anticipates the official launch of the standard 500, which will take place on September 15 but the car is already available for ordering. Fiat has announced that sales of its 500 under some special editions are not yet completed, next year, for example, the 500C and the special series 500 by Gucci will be launched. Fiat has also announced an initiative in the country of the Great Wall, giving the opportunity through a lottery: buyers of standard 500 can return and collect the Fiat 500 First Edition, but the offer is only up to september.
The Art of the Fiat 500 First Edition.
As already said, the Fiat 500 First Edition was designed exclusively for the Chinese market and 5 Chinese designers named Leilei, Mee Wong, Benny Luk, Yan Wei and Nod Young, applied some graphics on the sides of the 500 First Edition, to represent the link between Italy and the Eastern country.
Produced in Mexico to become Fiat 500 First Edition in China.
The Fiat 500 First Edition is produced in Toluca, Mexico, and will be marketed in China with a starting price of 190,000 RMB (about 20,900 euros). The special version of the 500 stands for the 12 exterior colors, including the three layers of paint pearl white, red leather interior and a special ID badge placed on the door pillar. The available equipment of the Fiat 500 First edition are Pop, Sport and Lounge combined only with the engine 1.4 MultiAir 101 hp combined to the six-speed automatic transmission.
[Not a valid template]
[youtube]
Similar News: