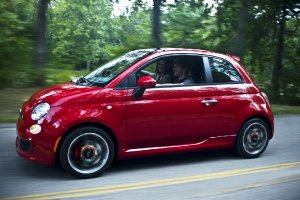 The 500 can officially be ordered in the United States at starting price of $ 15,500 for the version 1.4 Pop, it means at the exchange rate of today January 20, at € 11.494, including a four years guarantee (or 50,000 miles) and free maintenance for 3 years (or 36,000 miles). Fiat ensures to American drivers who want to buy a car with the mark of Turin, as the 500, a discount of € 2,400 ($ 3,236).
The offer covers the entry level version of the range, the 1.4-liter Multiair 102 hp with pack setting "POP", for the other two packs in the catalog, the Sport and Lounge, the starting prices are respectively $ 19,500 and 17,500.
The  Fiat 500 Pop presented at the Motor Village in Los Angeles has the 6-speed automatic transmission, ABS with new front calipers design, BOSE audio system with six speakers Series Energy Efficient, new front seats with "Easy Entry", redesigned rear suspension and axle , a 10.5-gallon tank, more powerful air conditioning and.. bigger cup holders, in order to keep the large glass that Americans likes so much to drink while driving.
[Not a valid template]
[youtube]
Articles across the web
Similar News: