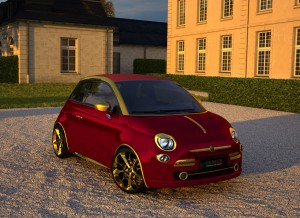 Fiat 500C "La Dolce Vita" is a customized version by the artisan atelier Fenice Milano which is a project born in 2008 from the intuition of a young entrepreneur, who Decided to invest in the development of an activity in line with the tendencies. As with the known version "Diva" of Rolls Royce Ghost, also on the 500C have been made aesthetic changes with 24 karat gold trim, present on the bumper, on the pillars, wheel arches and alloy wheels, also teak to redone interior's details.
2 PACK EQUIPMENT: Personalization are a "sporty" version in burgundy color chromium multilayer and a "classic" white gold pearl, both with engine 101 hp 1.4 Fire paired to the automatic gearbox Dualogic.
GOLD IN AND OUT: The dashboard has been redesigned, moving the instruments panel to the center of the dashboard and providing it with gold frame. Also redesigned steering wheel with gold inserts and teak, this material also replaces the original mats. Even the roof has been changed, with the texture with gold thread. The seats have been reshaped according to ergonomic principles made with superior leather and Alcantara with visible seams by hand.
LIMITED EDITION:  Another version involves the use of a special paint for the car body, is the "Limited Edition" which includes in it 24 karate gold particles.
Similar News: