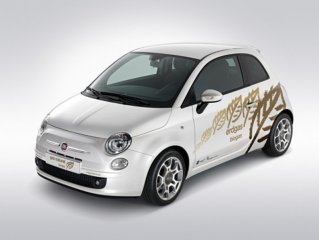 Fiat 500C TwinAir with natural gas engine designed by gasmobil, a Swiss company which deals in natural gas solutions for mobility, was presented at last 2011 Geneva Motor Show.
Methane Fiat 500C TwinAir Turbo by gasmobil was developed by a cooperation with Fiat Group Automobiles Switzerland and the German company BRA. Its tanks can hold 10 kg of natural gas or 30 gallons of gasoline, or both. Petrol consumption are 4 liters per 100 km and 92 g/km of CO2. The two-cylinder turbocharged engine develops 85 hp with only 2.9 kg of natural gas per 100 km and CO2 emissions of just 72 g/km, a value that today is not reached even by hybrid vehicles.
Performance of the Fiat 500C TwinAir Erdgas Turbo reflect those of this category: 173 km/h top speed and 11.5 seconds from 0 to 100 km/h, with both fuels.
[Not a valid template]
Similar News: