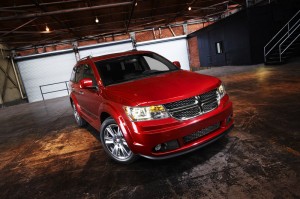 At the upcoming Geneva Motor Show, scheduled from 3 to 13 March 2011, Fiat will officially present a SUV-Crossover that has been called Freemont. The new Fiat's model will arrive in europe's dealerships in June.
FIAT-CHRYSLER: the new SUV Fiat-branded will be derived from the Dodge Journey, this is part of result of the partial  brand's reorganization within the Chrysler Group and providing the cancellation of the name Dodge in Europe. All cars, however, does not disappear because any models that can have a positive impact, commercially, will be rebranded  and absorbed into the Fiat range, as is the case for the Journey that will be Freemont.
NEW ENGINE: the Dodge Journey, undergone to a facelift and unveiled at the Los Angeles Motor Show last November, will be badged under the name Fiat Freemont. But a main innovation is the engine: the Freemont will be powered by a 2.0 MultiJet 170 hp, instead of the 2.0-liter CRD 140 hp by Volkswagen. In addition, there's a version with four-wheel drive.
This is an important opportunity for Fiat,  costs are close to zero and the process will replace the Fiat Ulysse wich ends its production in late December. The Freemont (ex Journey) thanks to the plus 4-wheel-drive has an excellent commercial potential yet untapped in Europe because of the limited commercial network of Dodge brand and more modest compared to the 5,000 Fiat dealers. Freemont will be manufactured at the plant of Mexican Toluca, where is also assembled the Fiat 500 for the United States.
We cannot display this gallery
[youtube]