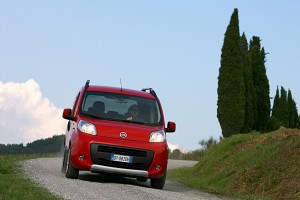 Fiat Qubo shows the model year 2011 with updates on the engines, on the interior's tissues and on dashboard. Since less than two years after launching,  the small Turin's MPV has a more clean and updated style.
Aesthetic Renovation: Fiat Qubo Model Year 2011 is recognized by the dashboard with black finish, renewed plastics and instrument panel, enrichment on the air conditioner's profiles for the version Dynamic and Trekking, changing from gray to black. It was then developed a new red or gray for version Dynamic, while trekking benefits of 15″ 10-spoke alloy wheels. News for the body colors: the Qubo model year 2011 can be purchased in three red tints, a new Blue & Me TomTom can be requested as optional extras, which is compatible with any last iPod/iPhone.
Green Engines: Fiat Qubo engines on model year 2011 are available respecting Euro 5 approvals and all are equipped with last diesel Multijet injection system with particulate filter, Start & Stop and cruise control. Here comes the new 1.3 Multiyjet by 95 hp with a variable turbine geometry that optimizes performance and power consumption. Completing the range a 1.4  73 hp and a 1.4  77 hp, dual petrol/methane.
Fiat Qubo model year 2011 has a price starting from 13,200 euros for the version 1.4 Active and 18,800 euros for the 1.3 Multijet Trekking.  The new 1.3  MTJ 16v 95 hp starts from 16,300 euros, while version "Natural Power" methane is priced from 16,700 euros.
We cannot display this gallery