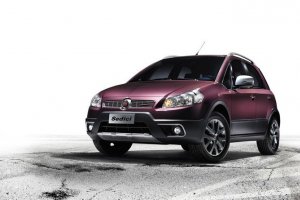 76,000 Fiat Sedici since 2006.
The Italian based car maker Fiat has just brought out its new version of the Sedici, a facelifted compact SUV packing some important features to face the best competition. Fiat Sedici is a model that from its launch in 2006, claims a total sales of 76,000 units.
Fiat Sedici design.
The style and the mind-set of the power and performance of SUV Fiat Sedici, however, remain unaffected. This is a renovating on all fronts for the new model, which will include the external appearance, with some minor adjustments made in line with the aim of giving a overall design and style more appealing, both in content and enhanced standard options. With 4.11 meters in long, 1.76 wide, 1.62 high and a wheelbase of 2.5 meters, the Sedici is available in both front-wheel drive with four-wheel drive with automatic adjustment of the torque distribution on the two axes. The 2012 model year Sedici offers metallic gray mirrors, a new Purple Rebel color for the body, 16 inch alloy wheels, painted roof rack and new interior's upholstery. The facelifts crossover comes with three variants: the Dynamic, Emotion and Experience, along with an interesting number of options including navigation system, USB connectivity.
Fiat Sedici engines.
According to the Italian-American brand, the 2012 Fiat Sedici is driven by a 1.6 liter 16v engine, delivering 120 hp and a diesel power unit, the 2.0 liter Multijet engine which generates 135 hp. Fiat claims that the base 2012 Sedici, with the 1.6 liter engine and front-wheel drive, fog lights, ESP, radio CD, four airbags and air conditioning is already on sale at € 14,500, while the four-wheel-drive is € 16,400
[Not a valid template]
Similar News: