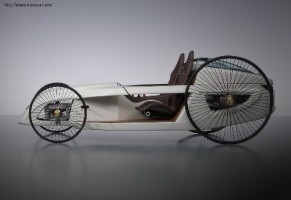 Whether you have enough money saved up to buy a new, or you buy a car on finance, you want to make sure it's perfect for you. If you are importing a sporty model, make sure firstly, that it's transported correctly by using a company like uShip who ensure your car gets from A-B in one piece. You want pristine interior, sleek exterior, and all the latest mod cons. We are lucky, because in times of old, we didn't have the pure luxury of ergonomically designed seats or power steering… oh no.
Since the dawn of the car in the late 1800s, cars have changed their shape, materials, and so much more. In this day and age, technology is key and we all want more of it in our lives. New technology is only as good as the next innovation that's coming after it. The automotive industry is constantly trying to keep up with what we want, be it from an entertainment point of view, usefulness, or course safety elements, which are key. Here, we give you the car innovations that changed the world:
Brakes and Power Steering
To begin, cars originally only had a handbrake to bring their vehicles to a stop… Not particularly brilliant, but since then, brakes have been developed from drum and disc brake systems, with new innovations like power assist, and finally anti-lock functions and automatic activation. Anti-lock brakes have changed the way we drive, and now we probably couldn't live without them.
We also now have more control than ever, with the introduction of power steering. Power steering allows us to go faster around a corner, whilst retaining control. It makes the car feel lighter, and there is less straining, meaning driving is now less of a workout… No more bulging muscles ladies!
Safety Glass
A simple innovation, but it actually does a lot more than keeping you from getting a mouthful of bugs on your journey. Safety glass actively helps keep the structural integrity of the vehicle in check. Once it's reached it's tether, it simply cracks or shatters rather than splintering in to dagger-like shards… Ouch.
Airbags and Headrests
Airbags have come a long way. Today your car could easily have more airbags than seats, with technology dictating not just whether they deploy, but how to deploy too. Nowadays, we have airbags for the driver, passengers, for our face, knees, and well everywhere… It's an airbag of fun. Of course we have to mention headrests, as it is great safety and comfort design innovation, which will literally save your neck!
Car Crash Dummies
There have been so many complaints about how easily newer cars sustain damage in a crash compared to older cars. The truth is out there, and a couple of years ago, the Insurance Institute for Highway Safety (IIHS) created a demonstration, to find that the cars today absorb the energy, rather than the occupants. Luckily no one was harmed in the test… Horrah for car crash dummies! Before the crash test dummy, the only way to see how a human body would be flung around in a crash was to watch a human body get flung around in a crash. This presents a just few issues… so again
Where would we be without our sound systems, in car DVDs and GPS? Imagine your annual family holiday drive, using a map, with kids on the backseat continuously asking you "Are we nearly there yet?" and the partner mindlessly chatting away at you… not to you, but at you. Every driver needs a little help, and electronics have saved our skins. So get the little ones to put their headphones in, turn the music up and let Mrs Satnav point you in the right direction.
That is not it… What did we say, oh yes… "New technology is only as good as the next innovation that's coming after it." Well here it is:
Self-Energising Cars
Ok, so not something that's quite ready just yet, but Exxon Mobil predicts that by 2040, half of all new cars produced will be hybrids. The only problem right now is that the batteries are heavy and take up a lot of space. This will soon be a problem of the past, with solar energy storing body panels bringing in a new innovative way to use renewable energy to keep us on the go.
The future is now!
Similar News: