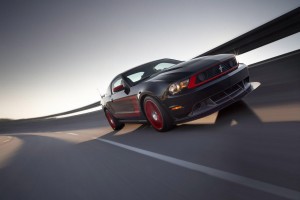 The Boss returns to 41 years away. At the elegance's competition of Pebble Beach, where it is customary for many brands to bring something special, the Ford Mustang Boss 302 has been unveiled. Ford has brought back to life another glorious chapter of the American motoring past with the new 2012 model, heir to the Boss 302, 429 and 351, born between the late 60's and early 70. The legendary version of the American pony car comes after the radical renewal of the version range now with much 'pepper', but typically American.
The new Mustang Boss 302 will obviously inspired by the legendary ancestor of '69, only that the new model retains under the hood the 5.0 liter V8 engine with 445 hp and maximum torque of 515 Nm. The Mustang Boss 302 has Alcantara's steering wheel, seats made by Recaro, interior with burnished metal inserts. The roof can be white or black, body colors are traditional of the Mustang 'Competition Orange' 'Performance White' 'Kona Blue Metallic' 'Yellow Blaze' 'Tri-Coat Metallic' 'Race Red'.
Mustang GT derivation: The Boss 302 has been completely redesigned, the name "Boss" is not used as coincidence by Ford, the Mustang Boss 2012 is a super car gaining two seconds on the track than the Mustang GT. The number 302 indicates the engine displacement expressed in cubic inches, 302 cubic inches are equal to 4.948 liters. The V8 engine is mated to a 6-speed manual gearbox, the tailpipe of the car is shorter and the sound remember the Boss V8 of the 1969, a reinforced clutch was adopted, the Brembo brakes use bigger discs, the Pirelli P Zero tires (255/40 front and rear 285/35ZR)  are on 19-inch wheels with suspension adjustable on 5 positions. "We wanted a Mustang series that could compete with the BMW M3 in the lap of Laguna Seca," said Derrick Kuzak, group vice president, "and we did." In fact there is a more powerful version (bicolor black/red) of Mustang Boss 302 called Laguna Seca, entitled to the famous circuit. Instead of rear seats is the roll bars that improves the torsional strength of 10%, the differential is type Torsen,the gearbox is with short grafts, anti-roll bars and springs are further reinforced. On version Mustang Boss 302 Laguna Seca were added specific conveyors to better cool the brakes, while the tires are mixed-type racing. According to Ford, the Laguna Seca earns one-tenth of a second on acceleration, reaches a top speed of 250 km and can withstand lateral acceleration of 1 g .
We cannot display this gallery
Related LInk: Great Mustangs from racing history
[youtube]