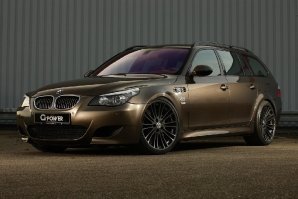 G-Power Hurricane RS Touring, described as the world's fastest station wagon, is the new proposed version of the German tuner G-Power, active since 1983 exclusively in car tuning for the Bavarian brand. The Tuner has indeed revised the 5.0 V10 engine of the BMW M5 Touring E61 adding two compressors to increase power to 750 hp and maximum torque to 750 Nm, the maximum speed (limited) is 360 km/h.
SUPERCAR PERFORMANCE : some data comes to impress on the acceleration 0-100, 0-200 and 0-300 km/h, respectively 4.5, 9.7 and 26 seconds, thanks to the pair of compressors SK IIII RS, new pistons Mahle forged and the new remaps electronic control unit. The 2008 sedan had 750 hp with top speed of 367.4 km/h, the model's evolution in 2010, called Hurricane RR, reached supercar speeds of 372 km/h.
Performance increasing has led to many changes to ensure the car safety. The Hurricane RS Touring, therefore, comes with G-Power Silverstone Diamond 20 " wheels and Michelin Pilot Sport tires, 255/35 ZR 20 to front and 285/30 ZR 20 to rear, disc brakes have a diameter of 396 (front ) and 380 (rear) mm, respectively combined with 6 and 4 clamps (optional ceramic discs are available). The interior, finally, is in Alcantara. The average price in Europe starts at € 242,000 , excluding taxes and optional extra.
[Not a valid template]
[youtube]
Similar News: