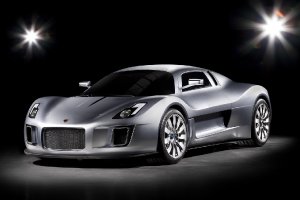 The Gumpert known among lovers of the Supercar niche and for the very high performance of its cars, has unveiled the Tornante at the recent Geneva motor show, a muscle model and designed by Italian designer Touring Superleggera. The project of this car was with the aim of giving more space to passengers and offer more space for the trunk, improving comfort, passenger access and reducing noise while driving. Of course the main skill of the car is unaffected by high-performance which is typical of Gumpert.
DESIGN: The Milanese designer this time worked on a car body without having to take into account design constraints to be met, partly because Gumpert is a brand born in 2002 and still lacks its own style. Doors are with a gull-wing opening to facilitate passengers access. The tailgate opens similarly like a "butterfly"  to have an easier and wide  access to engine and the boot which has now been raised to 200 liters. The composite body fitted on a mesh structure made of steel and chrome-molybdenum with  carbon fiber monocoque. The Gumpert Tornante is 4.47 mt long and 1.97 wide, while the wheelbase is 2.7 mt.
700 HP: The Gumpert Tornante is pushed by a Audi production 4.2 V8 bi-turbo, which can generate (standard version) 700 hp (515 kW) at 6,500 rpm and 900 Nm of torque at 4,000 rpm. Speed limit declared by the German carmaker is 300 km/h. The engine is combined to a six-speed automatic transmission with steering wheel paddle derived from Formula 1 and brake system with  378 mm ventilated discs. Gumpert has revealed that in 2012 the Tornante will also be available with a new engine, but did not provide any information about pricing.
[Not a valid template]
[youtube]
Similar News: