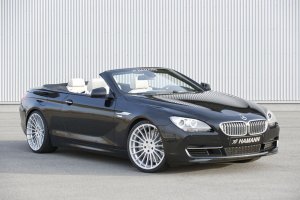 The tuning specialist Hamann of Laupheim (DE) has just unveiled its variant of the next generation BMW 6-Series Convertible, which immediately attracted many fans eyes, because this customization was one of the most awaited of the class, as evidenced by the many newly released photos.
The 6-Series Convertible by Hamann announces a tuning program by the German specialist, to be presented at the next Frankfurt Motor Show (September 15 to 25) .
Changes to the 6 Series Convertible involved a car lowering by 30 millimeters on the front and about 25 on the rear, the adoption of 20″ or 21″ alloy wheels and the stainless steel exhaust system with four chrome tailpipes by 90 mm of diameter, which promises a great sporty sound. This arrangement is available for both the 6-Series Convertible 640i with the 3-liter engine bi-turbo with 350 hp and the 6-Series convertible 650i bi-turbo 4.4-liter V8 engine and 407 hp. As for the interior, changes involved the pedals and the aluminum footrest for the left foot, available in both silver and black anodized, while the floor mats with Hamann badge are available on request.
[Not a valid template]
[youtube]
Similar News: